Best Fly Tying Vise Reviews for 2023
Fly tying is an art and a vise is one of the most crucial tools you can own!
Choosing the best fly tying vise, as with any other item, will depend on your level of intentions (medium/long term commitment) and your budget.
No matter what type of vise you select, the end goal is to start tying and stocking up the fly boxes with these artificial lures. The one on the above photo is called the ​Griffin Odyssey Spider Cam Vise, which is a good example of a high-end, middle-of-the-road, well-designed fly tying vise.
CLICK HERE
to read my full article about the GRIFFIN VISE
We have reviewed many other brands of vises and here are several that justify making our best fly tying vises list which are also great options.
Our Top ​5 Best Fly Tying Vises for the Money
Flyfish tying is a simple hobby for some people, a cost-saving way for others, and a lucrative business for the professional tyer. A vise is the only tool that will cost you a bit to make your own flies. The other tools you use to assemble the tying materials; cost you very less than the actual fly tying vises. So don't fool yourself by choosing a low-quality vise that will break or stop working after a few uses. Always keep in mind that you get what you pay for and before you shop, don't forget to do your homework. You just make sure you are selecting the appropriate model for your type of work.
When you buy through links on our site we may earn a commission at no cost to you. Learn more
What Types of Fly Tying Vises are Good for Fly Tying?
What features make a great vise? What vises are suitable to use by most anglers?
Firstly the hook, great fly vises must be able to hold many different sizes and shapes of hooks securely. If the vise can't hold the hook securely then look at another model.
Fly tyers like their preferred vise to be durable and well made. The cheaper style rotary vise tend to have soft metal that will crack, break, or will get grooves in it over time, so why waste your money!
It should be able to lock down tight after getting the flies on a fishing hook.
Good vice jaws are easily adjusted to accept a variety of hooks size and hook shapes. Small jaws are easier to work with a variety of hook sizes.
360º true rotary vise or fly tying vise is great as it allows you to inspect fly from all angles.
A rotary fly tying vise that not only ties the fly but also helps congregate and tie up the materials on the hook
Top Fresh Water and Saltwater Fly Tying Vise Brands
When you are searching for the best fly tying vise,  it can be confusing as there are many well-known brands you will see. Below to make things easier for you, we have listed the most popular brands who supply high-quality models that won't let you down:
Our Top Pick Best Fly Tying Vises
Best Fly Tying Vise under $100

This rotary vise by Crown definitely gets the best score at an unbeatable price.  Built with quality materials, you'll find that everyone agrees in all reviews across all networks:  Crown Vise, with spring-type clamps, gets the best score at an unbeatable price.
If we have a very limited budget, this style of rotary vise is the ideal option to tie your first flies with.

---
Best Fly Tying Vise under $150

You really can't look past the Danica Danvise vise. Its design pulls back and also has "plastic" parts (not plastic). However, it is 100% rotating, with two bearings, with good adjustment capability, and ultralight. They speak very well of their C-Clamp and their gags (all relative to the selling price)

---
Best Fly Tying Vise under $200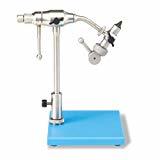 Our top fly tying vises in this range was the Atlas Roarty and Renzetti Traveler 2000 fly tying vise. Renzetti Traveler 2000 fly tying vise is certainly well known and endorsed a safe bet. You will also find their wooden Tying Station, although known in the network as being perhaps a newer model, is also an extraordinary tool used by many tyers.
All these are excellent options to start with and are available for all on a very affordable fishing budget. Without also forgetting that the models like the Atlas Rotary Vise and Orvis Traveler 2000 fly tying vise are of great quality and you can be happily producing great flies for a long time without making a painful outlay of money.
Click Here to Read Full Review
---
Our Top 10 List of the Best Fly Fishing Vises For Sale

For beginner fly tying, this handy fly fishing vise is hard to beat. It's a 360-degree rotation enabled vise which allows you to spin the fly around any way you want. Also, the adjustable bobbin cradle can be placed anywhere on the vise stem, I was impressed also with how this vise is made from the finest materials. Manufacturing quality is incredibly rigid and looks nice. Holds any size of fishing hook very firmly. I tried to tie a size 10 and I was successful. This easy to use tool is a good compromise if you're not willing to spend much on a vise.
We liked the fact that the Griffin Odyssey Spider ​fly tying vises comes with a c-clamp that is more stable and it is also very easy to adjust the height of the vice head. The downside is it's sometimes hard to search out the spot to clamp to when tying your fishing hook.
No matter if you are using a C Clamp or pedestal base vise, the ultimate consideration should be how comfortable it is for you when tying. If you always tie at home use a c-clamp, and for traveling buy another pedestal base one. I have both (pedestal vase options as well) and that's why it made the number 1 position for this best fly tying vises list!  Keep reading below as we go into detail and review many other fly tying vises available on the market today.
Click Here to Read My Full Review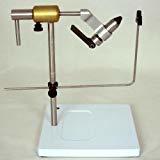 Despite being a newcomer in the vast array of artificial fly fish tying, the PEAK Fishing fly tying vise is becoming a go-to brand to all the anglers and fly tyers. This finely engineered USA-made fly tying vise has come up with 2 different configurations for the same price. You can choose either a c-clamp or pedestal base configuration at the same price range. The Stainless Steel, Brass, Tool Steel, and Aircraft Aluminum all made these solid and pleasing models for fly tying lovers. Meanwhile, its hardened and tempered tool steel jaws are efficient, which hold fishing hooks from size 2 to 20. Additionally, the rotary vise function itself is excellent and gives a smooth experience for those who find fly tying a difficult task.
It doesn't matter how hard you yank your thread, the vise will remain wherever you set it thanks to the heavy tabletop base. The included bobbin cradle is easily adjustable for height and length, rotates out of the way which is also helpful to make it snag-free. The best thing about PEAK Rotary fishing products is that you can get a lifetime warranty on material or workmanship. So without a doubt, these fly tying vises really are a long-term investment in your fishing activities and they are great rotary vises to add to your fly fishing collection.
Click Here to Read My Full Review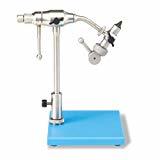 It's a simple logic that we can't all buy one of each brand to find the best fly tying vise, but if you could afford to test all of them available in a high price range then I think you would find this rotary fly tying vise very impressive.
The Atlas Rotary fly tying vise belong to Wolff Industries, different from Peak Fly Fishing, Griffin, and Danvise that also provide full rotary vises within the target budget, Anvil Atlas Rotary Fly Tying Vise doesn't leave a lot to be desired and its adjustment isn't puzzling at all.
Not to mention, it looks great, and this device works well without a single problem. This is exactly what I was looking for to add to my fishing collection. If you are like me and want to find a rotary fly vise that won't ever break, so that you can use it for years to come and even possibly thinking of passing it on to your children for their fishing collection when they grow up, then these fly tying vises are your most dependable tool!
Aesthetically enriched, this vase's durability is made sealed by using Aluminum clamp and steel Jaws in its rust-free construction. Pairing the device with the bobbin cradle helps us take full advantage of the 360-degree rotary vises action. To get the most out of this one, it is important to make sure that you use the correct slots in the jaws for sturdy, smooth, and balanced performance.
It possesses enough strength that ensures hassle-free fly tying of larger fishing hook flies, keeping the fly tying kit unbendable even under intense pressure. The base of this well-made vise is nice and heavy which you may prefer to mount with the C-clamp on your fly tying table. It does exactly what we usually expect from a rotary fly tying vice. All things considered, there's no reason to buy another more expensive one.
Click Here to Read My Full Review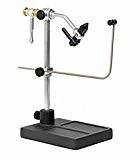 Available in a right-hand model, Renzetti Traveler 2000 Series featuring a positive rotary option, comes with a pedestal base or c-clamp. On the pedestal, you'll get a thumbscrew. By screwing it, the vise can be popped up from the base. So, setting it up again is also easy. There's much to admire about the Renzetti rotary fly tying vise. The adjustable bobbin cradle is one of them. It spins all the way around. The vise also has a thumbscrew, by loosening it, you can raise and lower the bobbin cradle. Upward there, we have the rotary arm. The first thing you'll notice about this is, how nice and smooth is it!
The Renzetti fly tying vise has two screw adjustments above and a thumbscrew as well. Depending on the kind of material, you can loosen or tighten the tension. Without compromising with the quality, Renzetti Traveler offers both the beginner and the experienced tyer a true rotary vise that gives a satisfying tying experience. You will also find long-lasting aluminum anodized pieces of equipment which also makes Orvis products standout in its field as well. Overall, all necessary features in this vise are available to ensure a better tying performance.
Click Here to Read My Full Review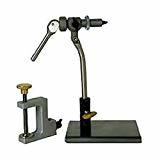 People used to be skeptical about the quality of these fly tying vises and say you can't find a standard kit unless you're willing to break the $300 mark. But the Wolff Industries fly tying vise have taken care of the serious fly fishing tyers with tight fishing budgets. The Apex Vise is among the best and moderate-priced creations that Wolff is offering you with all the high-end features you aim to get in a well-established fly tying vise.
Having an optimal amount of friction, the vise performs smoothly while very accurate in rotation. It's solidly built and can handle tiny and large flies with equal strength. This small, portable, and stainless steel made vise is an original USA product and carries a lifetime warranty. This standard vise with an in-line rotary is engineered for better inspection. You can turn the fly over while tying saltwater or large streamer patterns. Again, running them horizontally will allow the best result to come. Its steel jaws can securely hold fly fishing hooks from 6/0 to 32. For best results, the grooves are attached with the jaws for easy holding of the larger hooks. It is very user friendly for both a right-handed person and a lefty.
So, you can adjust the vise according to your comfort by moving the knobs. It even comes with a large pedestal base as well as a nice machined C-Clamp which increases your opportunity to use it for both options. Comparing the quality and utilization, it functions almost like any other expensive fly fishing vises available out there – it's definitely worth checking out!
Click Here to Read My Full Review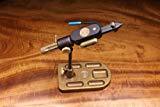 Among Regal's top-end tying vises, this one is likely the best rotary option. Though it's designed to make the entire vise spin, you are also getting the feature of adjusting the pitch of its angle. There's a little hex screw adjustment that you can fix with the hex wrenches. Keep the pitch of the vise straight or can angle it up according to your needs. You can also adjust the tension by screwing down the knob that locks the vise head in place or can back it off to spin it freely – very smooth.
Furthermore, you'll find a little spot near the jaw for the material's clip. It is included so that you can add a little knob there if you please. Inserting a hook on the device is very easy to use – simply take your vise, squeeze the lever and insert the hook in the vise and it'll hold your hook very securely. There's a groove installed inside the jaws which makes your larger hook's holding or fitting firm.
Moreover, it has got a very heavy bronze pocket base that weighs a couple of pounds. So very reliable even when you're tying on the table. Luckily, it has got a little magnet on its body section where you can attach tools – hooks or flies. For example – if you're tying up a big batch of flies and want to put some hooks or beads on there, you can do so.
Better still, the pockets in the pedestal base are made to hold beads, hooks, or fly tying materials like that. I personally use this vise and without any doubt, can admit that it's one of the most solid and featured vises I've ever held or worked with. Not to mention, it's also in my bag of favorites on many fly fishing trips.
Click Here to Read My Full Review

Norvise Fly tying vise is another proud name in the realm of fly tying industries. Nor-Vise Fly Tying System is among the best creations of Norvise. It's not just a tying vise, it's a complete tying system which has come with a fully different idea, different from the traditional notion.
The major advantages that have ranked this vise as one of the top models amidst the crowd include smooth rotation, cam-jaws, the bobbin post, and the automatic bobbin. This system also accompanies the feature of having exchangeable jaws which can be changed in less than 30 seconds.
Perfect dubbing was never so easy. By using this system, you can do it easily by following some simple steps. Firstly, string the thread over to the second post and let go of the bobbin. Then touch the dubbing to your thread and finally finish the process by spinning the vise. That's it. So, there's not much to do with dubbing loops or using special tools.
Coupled with the automatic bobbin that retracts excess thread, the system seems magical. After watching the professionally prepared 1 hour DVD Video where all instructions regarding setup and operating the device are presented very minutely, tying flies will be a child's play to you.
It seems a little bit pricey but don't forget, you are buying more than just a name. Its unique usability won't remind you of previous versions. I purchased this model a decade ago and have never thought of another vise, although I have changed its jaws several times during my long years of usage. But without this jaw-altering, nothing is less appreciable about it. Honestly, it's a no regret deal. Seriously a great buy!
Click Here to Read My Full Review

This Stonfo Transformer fly tying vise is the expensive one from our top 10 list of the best vises for fly tying but we have included this for great reasons you can't ignore. The main advantage of this high-end device is you can transform the jaws from in-line vise to tube-fly vise or streamer vise with a single click on the shaft.
Its Interchangeable jaws, adjustable & smooth rotary function, make this vise unique. Do you need to lock position at any angle? It includes a Shaft which helps you lock into position at a 45° angle. I'm really impressed with the fly fishing vice so far.
The jaws are extremely slim, the rotary operation is smooth and the add-ons are useful. The only downside with this fly tying vise is that the cover is made of plastic even though there is a metal heavy base underneath. But I should mention that the plastic in no way affects the vice function. It just cheapens the look of the fly fishing vice somewhat.
Click Here to Read My Full Review

The Dyna Barracuda is a stunning, high precision stainless steel fly tying vice. My first encounter with the Barracuda was at a Fly Fishing Exhibition in Canada. Amazed by the craftsmanship and apparent smoothness of the rotation, I purchased the vice and had it airmailed back home. The Dyna-King Barracuda fly tying vise is a mid-priced rotary vice, available in c-clamp and pedestal base versions, and aimed at the serious fly tyer.
I was very much looking forward to trying this Dyna vice for myself and was happy the day the postman knocked on my door. The Barracuda was well packed and everything was neatly arranged in polystyrene and came packaged with an instructional DVD (which is handy for all fly tying vises).
After flicking through the American DVD, the assembly was a breeze and in minutes I had the vice fully built and sat on my bench ready to take the first hook. The vice has a similar look to the Lazerri Orion but I somewhat prefer this King's style.
The build is first class and it looks as the vice would last a lifetime. It sits proudly on the desk and is rock solid. The base is superb and although I use a felt mat, I'm sure it wouldn't damage my table. I'm sure if you heated the Dyna-King base you could easily iron with the smoothness and weight of the 2.5 kg of metalwork.
I bought the vice with the 'midge jaws' to take smaller hooks and I'm pleased to say there is no problem with the grip of the Barracuda with a wide range of hook sizes. I have tied Bucktail Streamer Pike flies on size 6's and 8s up to intricate (with feathers and furs) miniature dry flies on size 20s with no trouble whatsoever.  The Dyna-King is smooth and silky in rotation, it is an absolute joy to use!
My opinion is the Dyna-King Barracuda vice is an incredibly good tool, rock-solid, precision-made tying vice. The noble Barracuda is the king of vices and guaranteed to last a lifetime outliving many cheaper vices.  It's the perfect gift to pass on to your grandchildren.
Click Here to Read My Full Review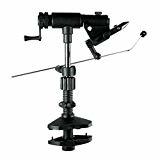 The Danica DanVise is a mid-priced C-Clamp, rotating dry fly tying vice. Out of the box, the first thing I noticed about the Danica DanVise is it's very light due to a composite Delrin construction.  I'm used to solid metal vices and I was a little worried at first about the overall build, but surprisingly it isn't an issue.  The vise is packaged with a good-sized bag of bits and pieces including parts and springs and an instructional DVD
Highlighted Features:
Once mounted the vice sits very well and has a sleek, black stealthy look. The rotational components are superb. Tension can be adjusted to suit by adjusting two knobs at the back of the vice. Rotation is with a turning handled and is nice, smooth, and easy.
The jaws are well made from high tempered steel, I loaded the vice jaws with a hook and started to tie a simple spider on a size 12 hook with some cork and balsa. I am happy to say the jaws hold firm and tight.
As I was building the vice it came across to me this is a revolutionary fly tying kit. The C-Clamp is solid and the clamp grips the table extremely well despite its light construction.
Bobbin cradle/rest which also doubles as wire holder to hold the bobbin in place during wrapping
C-clamp for secure attachment to edge of tabletop surface
Spring material clamp to hold materials in place that aren't being used in the step that you're executing
Left Handed jaw bracket for lefties
Free DVD describes jaw adjustment and vise set-up
Assembly is a little tricky and took me about 5 minutes to get the vice together. However, the DVD is very informative with detailed assembly instructions and the whole build took place on the desk beneath my monitor.
The first problem I encountered with the DanVise was the bobbin weight pulled down the head. It took a few tighter turns to secure it. The vice doesn't seem to have the adjustment bite of a metal counterpart but once nipped up it stayed put. Applying the hackles was a little tricky as there is a smaller amount of space between the jaws and the handle than I'm used too and this became more apparent as I whipped in a small tail with some goose feathers. I'm sure with time an amateur fly tier would get used to this.
Overall the Danica DanVise is a good buy for a first time or hobby tyer. The sleek design combined with the inline rotation system is a winner. It's light enough to carry to the bank but strong enough to use as at home. With a price point to suit a beginner or intermediates pocket, the Danica DanVise comes highly recommended
Click Here to read my fully review on all fly tying vises
How to Select the Best Fly Tying Vise for Fly Fishing?

There're many types of vises on the market today, each presents extensive options and characteristics. Choosing the best vise around your budget and fly fishing requirement is difficult, especially if you're a novice at fly fishing. Whether you are tying flies for saltwater or freshwater species, if a vise cannot hold the hook effectively or securely then it is worthless.  So, what is the conclusion? What features and things are important to look at in a vise?
What Are The Best Rotary Fly Tying Vises – Do You Need A Rotary or Non-Rotary Fly Tying Vise?

Ted Leeson and Jim Schollmeyer mentioned in their book "The Bench Side Introduction to Fly Tying" a rotary vise is not necessary for all to tie. That, however, should not be a decisive factor. Even less so for someone who is going to buy their first vise. Of course, if you can have a rotary vise it will be better, but you would always have to evaluate other aspects above this feature in the event of a "tie "(Quality of jaws, price …).Personally, and after my short experience, I would recommend rotary because it certainly offers comfort when performing certain operations: the typical "hairdresser", the application of lacquers or resins, or simply to make sure that the fly is performing with the expected "symmetry".
Pedestal or C-Clamp Fly Tying Vise?
Or what is the same, pedestal or C-Clamp? Which option is most suitable for holding the hook? Preferably, a clamp that offers both options.  It is the obvious answer because it gives us greater possibilities to adjust the workplace to our liking. The main advantage of the C-Clamp is just that of anchoring firmly in a fixed position the vise to the table and it's ideal when the workplace is fixed. If this is not the case, it is advisable to use a pedestal base that we can place where it suits us at any moment (moving or temporarily removing the vise).
Fly Fishing Fly Tying Clamps

Here there are two large groups, those of direct attachment and those of dock.  The first separation between the two ends of the jaw can be fixed by a screw so that when the clamp lever is closed, the minimum pressure necessary to firmly hold the hook is reached without forcing them. If the vice is of quality, it is a reliable and durable system.
The second group of jaws, the spring type, functions as a "standard" clamp. The clamp is closed and pressure must be exerted on a lever to open them. Insert the hook in the clamp and release the lever to lock it. Its use is simpler, as it does not need pre-adjustments according to the size of the hook. So, what clamp to choose? This is more a matter of personal taste … the reality is that the quality of the steel is what must be taken into account so that they do not dry up to the minimum of change.
Budget

You probably think that the budget is important to be as low as possible because you really do not know how often you will use this new device?  All I can say is trust me and I warn you that the danger of ending up being addicted to this new and rewarding hobby is quite high!!
After intensive research in search of the best value-for-money, and focusing on the opinions read on both sides of the argument, I think we can find these very good alternatives in affordable price ranges. The network is full of "reviews", so I save the details of each one of them and I get to the point with the definitive list of "my candidates" during the analysis and pre-purchase stage.
Conclusion
Although tying flies seems a complicated task, it's simply the process of putting together the materials on a hook (commonly known as an artificial fly) in an orderly way and a great tying vise will make this so much more enjoyable!  I'm sure you will find it will become your new favorite hobby – I sure did!  By following some step-by-step guides anyone can learn how to form a knot in a piece of thread. You needn't even be a fly fisherman, though it certainly helps.  Imagine how great you will feel rigging up your line and knowing your fly was personally made by yourself – how satisfying!
Happy Fly Fishing!